Blog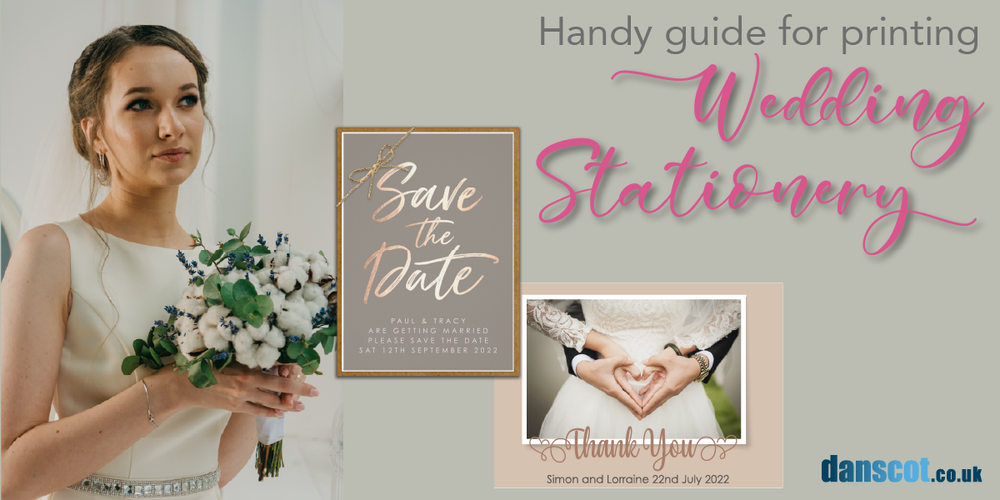 Wedding Stationery
A handy time-line for printing Wedding Stationery
Planning a wedding can be stressful and seems like there so much to do. Writing down a time-line could help make everything running smoothly.
You've got a date!
The date has been secured so you can start thinking about the look and feel that is personal to you. Having a scrapbook or pinterest can help keep all your ideas together. You may want everything to match or have a common style or colour theme throughout your printed stationery.
6-9 months before
Save the date cards
These cards are ideal to send out so that people can plan time off or organise child care. They can be a simple text card with all the details or maybe a photo card of the happy couple. Maybe you've got a style in mind but need a designer to transform your ideas into reality, here at Danscot we have a team of designers ready to help those dreams come true. Evening invitations are usually a smaller version of the invitations and could be the same design or different depending on your personal preference.
2 - 4 months before
Printing the invites
Typically wedding invites take a lot long than save the date cards. They usually have a lot more information and detail. Designs can go back and forth a few times before they're right, especially if other family members are involved.It's a good idea to give yourself time to allow for all the details and ensures things run smoothly. As part of our service we can offer wet proofs, this is a one off print of final design on chosen material to show final product, so there's no guesswork or imagination needed to see the final product. Please note this 'wet proof' is an extra service cost but one that you feel you would benefit from.
So what else can go with the invites?
RSVP Cards
These cards are usually a separate card requesting a return to inform you if your guest is able to attend or not. The style typically follows the invitation design, and ideally printed at same time.
Guest Information Card
You may want to include a guest information card. Sometimes this information is quite detailed, and you don't want to clutter up your invitation designs. This type of card could have travel instructions, directions, map, overnight accommodation and gift list information.
Menu Cards
These are helpful if you need to plan the food in advance for the hotel or caterer. It also gives you the opportunity to see if any of your guests have any dietary requirements.
4 - 8 weeks before
Now is the time to think about what printed material you'll need on the day. We have some suggestions of what these may be.
Order of Service
An Order of Service isn't just for a church wedding, these give your guests the format of the day. It may also include some hymns, songs or even music that is being played. They could also include times and location of reception if different from the ceremony. People often like to keep an Order of Service as a souvenir and it's a good idea to have a copy for each guest.
Table Plan
A table plan at the entrance is a stylish and practical way to help your guests find their table. Typically, the layout is simple to avoid confusion but could incorporate your overall style.
Table numbers / Table Name Cards
These could be a folded card that sits on the table or placed on a special stand. Again, typically a simple design is used or could be coloured coded to make the setting arrangements even more obvious or have design elements from the invites to tie everything in.
Place Cards
These are personalised cards that sit on the table for your guests and add that extra touch without being too expensive.
Menu Cards
Typically displayed at centre of each table, these cards show your guest what they are eating or what is available for them to eat and drink.
Co-ordinating the designs throughout can help make a lasting impression for your big day. Our premium material offers that extra special look. Not everyone has a big budget, but that doesn't mean you can't have the co-ordinated look. Just speak to one of our designers who can guide you on different materials.
After the big day
A thank you card sent to your guests is always appreciated. Typically, these are sent out anywhere between 2 - 6 weeks after the wedding.
Whether you're planning a traditional, modern or quirky wedding, we're here to help guide you through the planning process. We have some samples of materials and printing processes such as foil or embossing to help visualise the end product. Just call us to arrange an appointment with one of our designers.


24th January 2022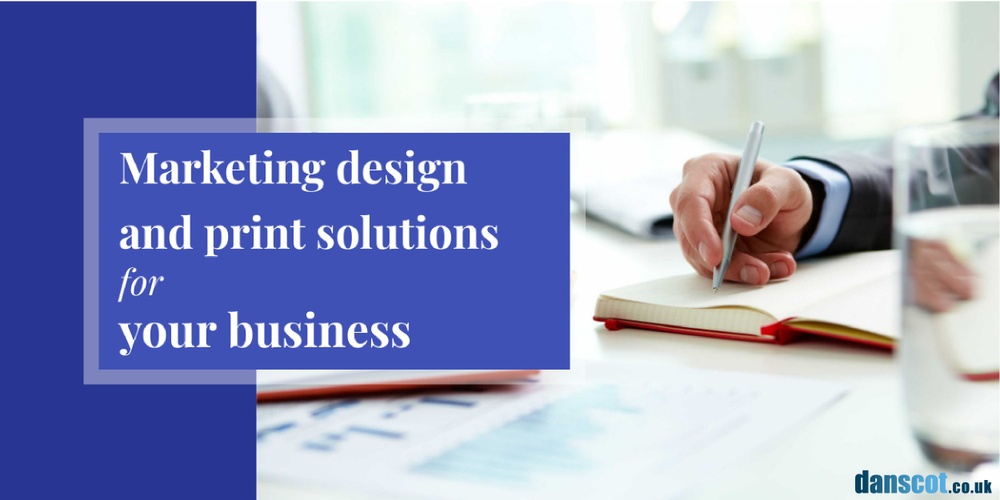 You've got an idea, secured funding but not sure how to promote your Business
Read on and we will guide you through what marketing tools are available and what printed materials you can use to boost your sales
Marketing materials can be both digital and printed products that are used to communicate with your target audience. These range from logo design, business cards, flyers, leaflets or large scale banners. The main message you want to promote is why your business is better than any of your competitors. A good quality branding with the right printed materials give potential customers a taste of what you have to offer.
Professionally designed and printed materials reflect your brand even down to the colours. So, what can we offer to make you stand out?
Logo Design
Our in house graphic design team have a wealth of experience and knowledge and more than happy to guide you through the process. Whether you have a rough sketch and idea, or, no idea, our designers work by listening to you to create an image that reflects the message of your business.
Business Cards
Perfect for events, exhibitions and ideal size to keep in your pocket to connect with potential customers. It doesn't matter if you are a one person profession or a corporate company as business cards are a staple tool and still very much popular today. They are a cost effective marketing solution capturing a lot of your business in one small card.

Flyers and Leaflets
These are larger than business cards and an ideal way to highlight any special offers or promote your services. Flyers are usually a single sheet printed single or double sided and lend themselves to being posted through letterboxes or given out as handouts. Leaflets allow more detailed information about your business and we have a range of sizes and materials to fit your needs.
Roller Banners
Ideal for a variety of purposes, banner stands are a great low cost advertising promotion tool for businesses. These self-standing banners are an ideal solution to create eye-catching displays to advertise your business. Our roller banner design and printing service deliver beautifully printed designs on an anti scratch material along with a free carry case for easy roll up banner storage and transportation.
For further information please call us on 01738 622974 or email print@danscot.co.uk
15th February 2022